We recently test flew a new project for us. We have had great success with the Hangar 9 Sukhoi 97″ in the past, but decided to dip our feet into the world of bigger electric aircraft and this airframe was the perfect choice. 
The new SU26 SE was fitted with a 7kw Plettenberg Predator 25 motor which is the equalivant to a 80-90cc petrol engine. 
Using 4-No. Eflite 5 cell 5000mah Lipo batteries wired to be 10cell 10000mah (10s2p) it is able to turn a 27×13 inch prop. The packs are superb & are holding up well after many flights, still balancing easily & holding their power right throughout the flight.
The prop is unique in that there are two separate blades that fit to either side of the motor, they can flex ever so sligthly and this provides a deafly quiet setup, with no ripping propeller tips. 
The speed controller is a Schzule XL Future 40.161, capable of 170amp constant & close to 300amp bursts.
Here are the Plettenberg motor specs:
The Predator 25 close the gap between the Terminator and the Predator 30 and is developed for F3A-X Models or models with the same wight, means aerobatic-models with a span of about 2,3 m – 2,5 m. In the class F3A-X is the limit of the weight 10 kg. The motor is developed light as possible, the motorwight is 1275 g incl. the couplesystem for the folding-props.
You have to use the motor with a LiPo 10S and 8-10Ah. The efficiency of the motor is about 89% and the power is about 7KW.
The Predator 25 is just available in a spinnersystem with foldingprops 25-28". The weight of the motor, controler, spinner, prop and lipo is about 4000 g. For the "normal" aerobatic the motor is good for models up to 12 kg
  The motor is built into the spinner with a large hole for cooling in the nose, this offers a very efficient setup & keeps temperatures to a minimum. Power is unlimited & I can complete a full unlimited IMAC routine & only using about 60% of the packs capacity.
You can see some pictures below.
 Here is a video from a local fly-in.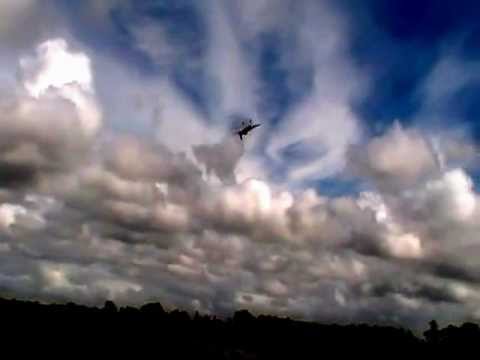 A big thanks to Plettenberg for supplying this beautifully engineered motor, it certainly looks to be the future in our increasingly noise aware society. Also thanks to Horizon Hobby for their airframe & lipo's.
Thanks,
Matthew